We've been tracking the path of the sun for the past three weeks in Central Virginia. I shared my notes on what we used for a sundial a few days ago and the path of the sun for various days leading up to the "equinox".
For the past few days we have not had any clear sun to go by, but today (3/20/14) it was clear from the moment the sun rose above the horizon. So I began making my marks (black dots in the picture below).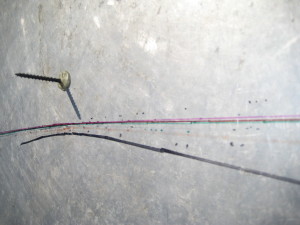 I expected the line to be straight until mid-day, given what I've seen in the past. Then, typically around what I believe to be solar noon the line bends. So, I waited until late in the morning to connect the dots.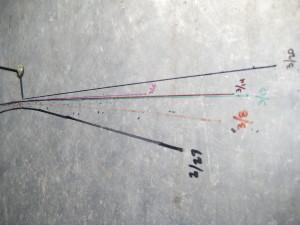 I used a straight edge to connect the dots, making sure the line included every mark I made. The marks were made about 20 minutes apart, with some more or less often. I was kind of expecting it to bow during mid-day, so when I aligned our straight edge to the (solar) noon-time markings and saw that it remained straight, I was surprised.
By this time I had called my husband over and he was surprised as well. So I continued to make my marks through the afternoon and sure enough, the line stayed straight.
You may wonder why I was surprised. We are at 37.87 degrees N latitude, so I expected the straight line to have appeared at least a day earlier than the "equinox" as calculated by NASA.
We did not make any alterations to our gnomon (the screw that cast the shadows on our table) in consideration for our latitude. We just affixed a screw to the table (it may even be slightly crooked).
We were just measuring the tip, so we didn't think it mattered provided it was a fixed point. But I thought we were far enough north on the land to warrant a difference between the calculated equinox day and the day when the sun rises and sets due east and due west, respectively in our latitude.
I guess not.