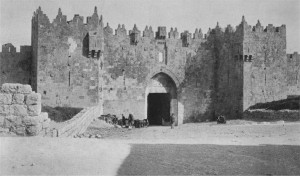 Nehemiah 13:19-21 Jerusalem gate open
19And it came to pass, that when the gates of Jerusalem began to be dark before the sabbath, I commanded that the gates should be shut, and charged that they should not be opened till after the sabbath: and some of my servants set I at the gates, that there should no burden be brought in on the sabbath day. 20So the merchants and sellers of all kind of ware lodged without Jerusalem once or twice. 21Then I testified against them, and said to them, Why lodge you about the wall? if you do so again, I will lay hands on you. From that time forth came they no more on the sabbath.
This bit of Scripture is often used to support an even to even reckoning of the day.  My question is, why does it matter when they closed the gate?  That is what is usually mentioned here.  The thing is, the gate was shut every night.  Nehemiah 7:3
1Now it came to pass, when the wall was built, and I had set up the doors, and the porters and the singers and the Levites were appointed, 2That I gave my brother Hanani, and Hananiah the ruler of the palace, charge over Jerusalem: for he was a faithful man, and feared God above many. 3And I said to them, Let not the gates of Jerusalem be opened until the sun be hot; and while they stand by, let them shut the doors, and bar them: and appoint watches of the inhabitants of Jerusalem, every one in his watch, and every one to be over against his house.
I think we should be focusing on the break in the weekly pattern.  This is the fact that the gate was not opened on the 7th day daylight period to keep the merchants out.  We probably can agree on this.  What we may not agree with is that I maintain this bit of Scripture has nothing to do with defining an even to even reckoning of the day.